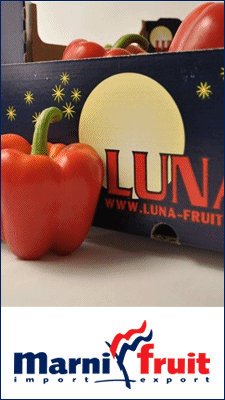 Abonneren
Vacatures
Weer
Sales Support
Granot Fresh is a subsidiary of Granot, a cooperative of 43 villages in Israel that is specialized in the sustainable cultivation of avocado and citrus. Founded in 1958, it is the largest agricultural cooperative in Israel and the biggest avocado grower in Israel. Granot Fresh, the European sales office, was founded in 2021 and it is located in Maasdijk near Rotterdam. The team at Granot Fresh is responsible for coordinating and organizing sales to the customers worldwide. Our team is looking for a person who is for a sales support / administration position, not commercial.

Sales Support

Position
Organizational Talent with growth ambition
General support in a wide variety of areas, including administration, commercial programs, sales and purchasing.
Assistance with outgoing orders and information in case of delays and adjustments.
Keeping track of shipments, logistics, forecasts and informing commerce.
Assisting and coordinating Retail programs.
Monitor price lists and market overviews.
Telephony support at the commerce desk.
You will report to the Sales Director Europe.

Profile
Administrative, commercial and accurate
Job requirements
MBO+/ working and thinking level.
Experience in a similar position is useful but not required.
Accustomed to working with computers and experience with Office programs.
Administrative able and knowledge of programs such as Exact.
Interest and affinity with the fresh produce sector.
You master Dutch and English verbally and in writing, mastering another language will be an advantage.
Competencies
Team player and collegial.
Stress resistant
Very communicative.
Thinking and acting in solutions.
Prioritise.
You appreciate feedback.
Multi tasking.

Location
Honderdland in Maasdijk. Easily accessible from Den Haag, Rotterdam, Gouda and close to the A20.

Offer
A varied full-time job in a dynamic organization with strong, financial stability and wide international exposure. Excellent salary and working condition within a small and cohesive team.

React
Granot Fresh has exclusively outsourced the Recruitment and Selection for the vacancy of Sales Support to FreshRecruitment. For more information, please contact Jan Willem Tolhoek, available by telephone on +31(0)6 821 831 03. Applications only via www.freshrecruitment.com
Detailed information about the organization can be found on: https://granotfresh.com/
FreshRecruitment is a specialist in Food & Agri vacancies for Bachelors and Masters. Our people are skilled professionals who work together as independent entrepreneurs. We work with an extensive database, social media and targeted recruitment campaigns. International recruitment with a large network (including Europe, Asia, Africa, South America) The market areas are: Food, Agri, Retail (FMCG / OOH), Food Technology, Food Technology, Nutrition, Biobased, Life Sciences, Animal Scienes, Agro chemicals, Veterinary pharma, Technology, Horticulture, Plant Sciences, Organic Agriculture, Floriculture and Horticulture. The job specializations, both permanent and interim positions are: General Manager(s), Management, Sales & Marketing, Financial, Human Resources (HRM), Operations, Logistics (Supply Chain), Purchasing, Buyer, Trader, Research & Development (R&D), Food Technologist, Nutritionist, Quality (QA / QESH), Engineering, Project Management and Process Technology.